Superhero Logos Pillow Bundle 1
4 x 39 x 39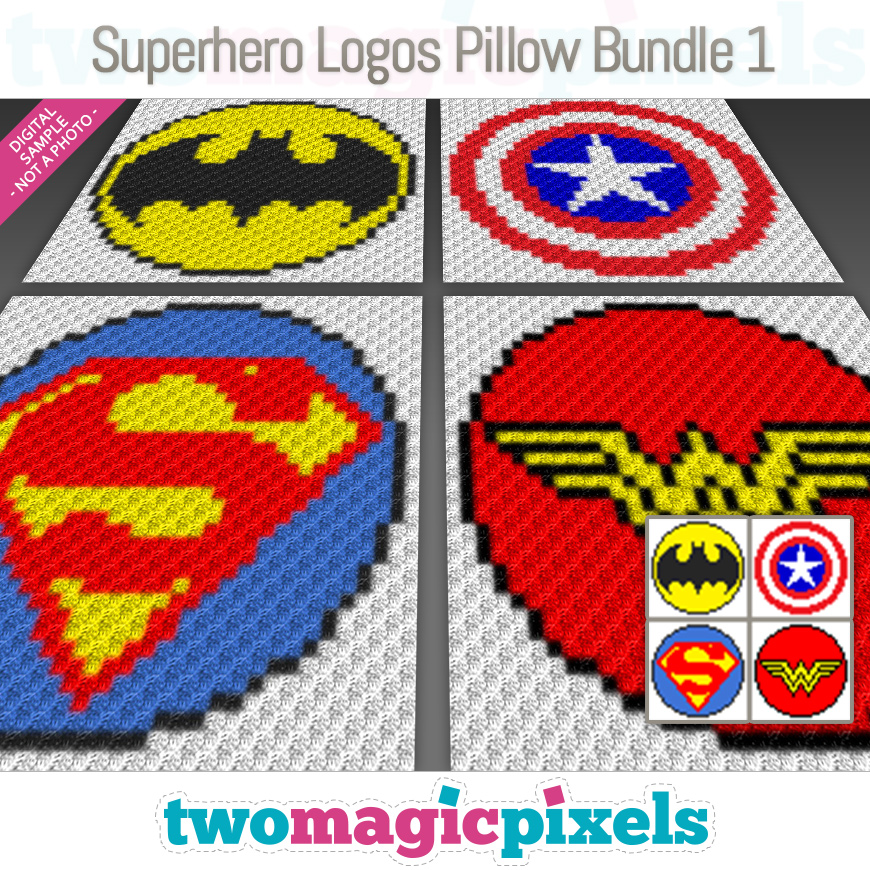 Please read the description below carefully:
● INTRODUCTION ●
"
Superhero Logos Pillow Bundle 1
" is a bundle of
small digital graphs
(available in
PDF format
only) that can be used to
crochet small items
using various
techniques
, such as
C2C
,
Mini C2C
,
SC
,
HDC
,
DC
,
TSS
or
Bobble Stitch
.
Alternatively, you can use this product for
cross stitch
,
knitting
,
hama beads
,
plastic canvas
,
diamond painting
and other crafts.
Please note that
the sample image is not a photo
of a finished item! It is only a digitally-edited image meant to showcase our product.
● SIZES ●
This bundle contains
4 graphs
, each being
39 squares wide
by
39 squares high
. To find out the
finished size for a single graph
, please use the calculators linked below:
●
C2C
:
C2C/Mini C2C Finished Size Calculator
●
SC
:
SC/DC/HDC Finished Size Calculator
● COLORS & YARN ●
Because this product contains more than one item, the color breakdown is not available here, but
both the color counts and the links to yarn calculators
are
available in the PDF file for each individual graph
in this bundle.
● PDF CONTENT ●
The PDF file contains:
● sample image (digitally edited, not a photo of a finished blanket)
● the full graph on a single page
● the graph split in smaller sections on multiple pages
● graph information (size, colors, links to finished size and yarn calculators)
The PDF file does not contain:
● row-by-row counts (these can be ordered at checkout)
● yarn, hook or technique suggestions; it is your project, not ours, and you have full freedom to work it however you like
● any sort of tutorial for crochet or other crafts
● ROW-BY-ROW COUNTS ●
This graph bundle
does not
come with row-by-row counts included! If you have already purchased this bundle in the past, you can add the row-by-row counts using the buttons at the top of this page. If you haven't bought the bundle yet, just add it to your cart now using the button at the top of the page and -
during the checkout process
- you will be able to also add C2C or SC row-by-row counts, priced
$3 each for the entire bundle
.
● SAMPLE FILES ●
Please click on the links below to download
sample PDF files
showcasing our graphs and row-by-row counts:
●
sample graph
●
sample C2C row-by-row counts
●
sample SC row-by-row counts
● PRODUCT DELIVERY ●
The purchased file(s) will be available for
download immediately, once your payment has been processed
. Please
be patient
and
wait for the order confirmation page to load
up!
The file(s)
can be also downloaded later
from
your account
.
● TERMS & CONDITIONS ●
This product is
available in digital format only
(downloadable PDF file). Unfortunately we cannot print the files for you, nor "snail mail" them to you.
All
payments are processed online through PayPal
. We cannot accept bank transfers, cash by "snail mail" or other types of payment.
Because this product is available for instant download once payment goes through,
no refunds are available
.
These
terms & conditions can be adjusted
over time; please make sure to read them carefully whenever you want to make a purchase.
By purchasing the item(s) described on this page,
you confirm your agreement with these terms & conditions
.
● FREQUENTLY ASKED QUESTIONS ●
Q: What hook, stitch, yarn was used to make this item? What hook, stitch, yarn do you recommend?
A: The sample image is
not a photo
of a finished product, it's a digitally-edited image meant to showcase our graph. This is
your
project,
you have the freedom to choose how to work it
, while keeping in mind the sizes mentioned at the top of the description. There is
no "standard" hook, stitch, technique or yarn brand
. If you're looking for suggestions or ideas, feel free to post this type of questions in our
Crochet Group on Facebook
, you're guaranteed to receive a lot of recommendations from other crocheters.
Thank you for your visit!
The Two Magic Pixels